Which foundations are the least comedogenic? If you've been shopping for a foundation, I'm sure you'll agree with me that finding a nice one for acne-prone skin is difficult. We'll examine some of the top non comedogenic foundations available today and offer you a primer on non comedogenic makeup so you can decide if this type of makeup is suited for you.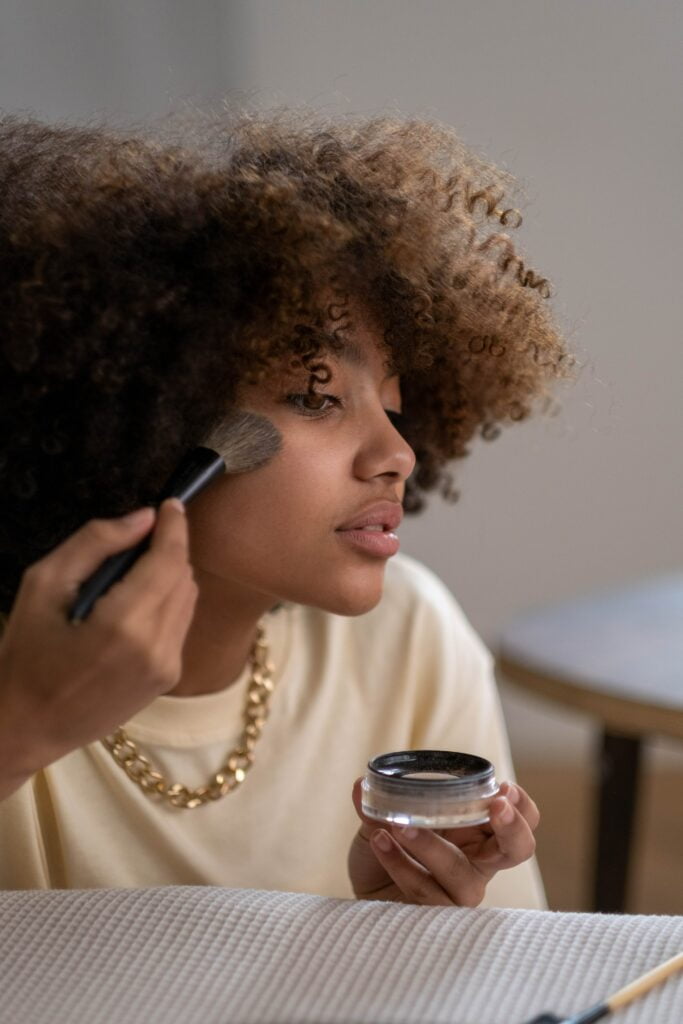 List of the Best Non comedogenic Makeup
If you're looking for a budget-friendly foundation that delivers a punch, L'Oreal's True Match Super Blendable Makeup is non comedogenic and definitely worth adding to your "to try" list. What's amazing about this product is the variety of colors offered. This means that there is almost certainly a hue for everyone.
It feels light on the skin. What's more, it's CHEAP! It even contains SPF 17 in certain hues. Although the container is small (1.0 ounces or 30ml), you don't need much for excellent coverage, making it a worthwhile investment.
This foundation is slightly more liquid in texture and would not be appropriate if you're looking for something more substantial or complete coverage. Additionally, I want to point you that the foundation does not include a pump. However, when its features and price are considered, this foundation is an excellent (and reasonable) purchase.
Additional information from L'Oreal: The Infallible Fresh Wear foundation from L'Oreal Paris is non comedogenic. This foundation is water-resistant, sweat-resistant, and transfer-resistant. It is available in 30 shades and provides medium coverage that may be built up to full coverage. Additionally, the mixture is lightweight, making the application simple. It's a long-wearing foundation that comes in a variety of hues and lasts up to 24 hours.
NARS non comedogenic foundation
Numerous people have inquired as to whether NARS foundations are non comedogenic. Yes, certain NARS has a non comedogenic foundation!
NARS has a reputation for producing high-quality products, and the NARS Sheer Matte Foundation is the brand's best oil-free, non comedogenic foundation. On the skin, this foundation does not appear cakey. It performs admirably on oily skin and lasts for up to 8 hours. Due to the fact that this is a sheer foundation, it will not provide complete coverage. The foundation protects and nourishes the skin.
NARS's buildable product works, but you must exercise caution with the dosage. The lotion does have a scent, but it is not overpowering. Some people may have an issue with this, and it truly depends on your level of sensitivity to smell. The scent is only visible when applying the cosmetics and quickly fades away.
Additionally, the bottle lacks a pump, making it slightly more difficult to use. However, given the benefits of this foundation, including its lightweight texture, skin-nourishing properties, ease of application, and long-lasting wear, I recommend it as amongst the best oil-free, non comedogenic makeup options available today.
If you're curious, NARS also makes the following non comedogenic foundations:
As the name says, this is a long-wearing foundation, with NARS claiming that it can last up to 16 hours. It comprises extracts of raspberry, apple, and watermelon.
It's a featherweight formula, which is critical for long-wearing foundations. It provides sheer coverage and has a non-greasy texture.
If you're interested in learning more, be sure to check out my comprehensive guide to long-lasting foundations!
It contains nutritious elements for the skin such as rose fruit extract, vitamin C, E. It's ultra-lightweight, oil-free, and ideal for sensitive skin. It features a matte texture that is ideal for oil control and is packaged in a convenient 1.7oz bottle.
One disadvantage is that it lacks sun protection, necessitating the creation of your own. Due to its lightweight nature, it is intended for light coverage. Some people may be unaware of this and wind up applying an excessive amount, resulting in the product feeling cakey. The matte finish is ideal for those with extremely oily skin.
NARS foundation is oil-free and non comedogenic. As the name implies, this foundation gives sheer coverage that may be built up to a natural finish. It is paraben-, alcohol-, and fragrance-free. Glycerin, vitamin C, antioxidants, and turmeric extract are all included.
Is BareMinerals free of comedogenic properties? Yes! Foundations made entirely of bare minerals are non comedogenic. This applies to the majority of liquid and powder formulations. The Bare Minerals Original Loose Powder Foundation is my favorite.
This is a mineral foundation that is non comedogenic and has sun-blocking characteristics (SPF 15). It contains no talc, parabens, phthalates, fragrance, preservatives, or chemicals. It's light, buildable, and amongst the best non comedogenic powders for oily skin due to the powder's high oil-absorbing capacity.
This Smashbox foundation is oil-free and non comedogenic. It's a foundation with a medium level of coverage that can be expanded to full coverage. It is composed of stretchy and breathable polymers that allow your skin to move freely without becoming trapped in pores or wrinkles. The foundation does not oxidize, which means the color will remain consistent throughout wear. It has a matte finish, is sweat-resistant, and will not stain your clothing.
This foundation provides excellent oil control, particularly in the areas surrounding your T-Zone, which is a common source of irritation for the majority of people.
The Smashbox studio skin foundation is cruelty-free and amongst the best non comedogenic foundations available.
It's a medium coverage foundation that does an excellent job of hydrating your skin. Additionally, the creamy formula allows 24 hours of wear. It features a sun protection factor of 15.
This foundation is developed using Clinique's "stay true" pigments, which ensures that the color will not oxidize.
Top-rated non comedogenic moisturizer
If you have been wondering "What is the best non comedogenic moisturizer?" look no further. This groundbreaking cream goes above and beyond BB and CC creams by delivering a whopping 15 benefits in one handy package. This wonder product moisturizes, mattifies, decreases the appearance of large pores, provides anti-aging properties, reduces redness, and protects against the sun in one fell swoop. It's hypoallergenic, dermatologist-tested, and oil-free, making it an excellent choice for anyone with sensitive or acne-prone skin. What's the best part? You are not required to be concerned with choosing the ideal shade. This solution contains a self-adjusting white sapphire complex, which means it will match and enhance your natural skin tone.
Best among non comedogenic oils
Surprisingly, Shea Butter has a comedogenic rating of 0. Although it is rich and luscious, it doesn't clog pores. When I was freaking out because the skin on my forehead had begun to flake, this is where I turned for help. It is quite thick and feels similar to applying chapstick on your face, and it does take some time to absorb; nevertheless, if you have extremely dry skin, it will feel wonderful. It is loaded with vitamins and minerals and works wonders on fine lines, wrinkles, and scars.
Shea Butter can be melted and combined with your preferred essential oil or another facial oil to make it less viscous. It's a godsend for rescuing your skin if it's peeling madly, as mine was. Additionally, it can be used on your hair! Ensure that your purchases are organic, unprocessed, and raw.
FAQs
What are the benefits of non comedogenic foundation?
There are many benefits that make your skin younger and beautiful. Non comedogenic foundations have ingredients that don't clog pores, minimizing the likelihood of pimples or acne.
List of non comedogenic makeup brands?
Here are the non comedogenic makeup brands which are most trusted:
Which is the best non comedogenic sunscreen?
Dermalogica Oil-Free Matte SPF 30 is the top-rated non comedogenic sunscreen in the market.